Presented by Maitland Repertory Theatre
The Importance of Being Earnest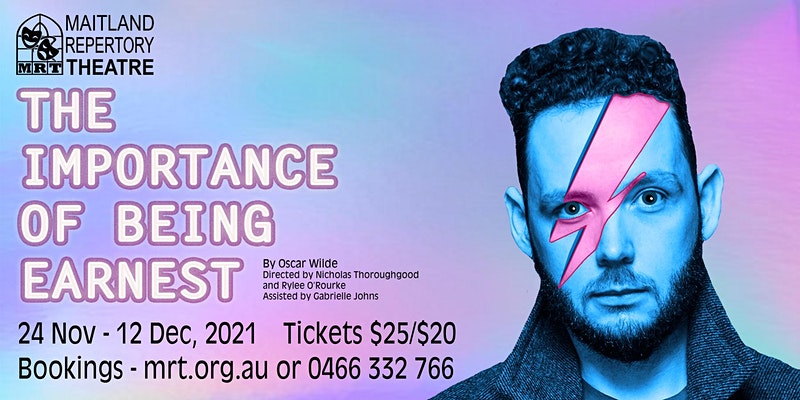 About the Show
The Importance of being Earnest, Oscar Wilde's most famous comedy, is a trivial comedy for serious people.
Ernest Worthing, who lives at the Albany, has a striking reputation for being unfortunate. Everyone knows him, but somehow no one has ever met him.
Ernest's well intentioned, and somehow more tangible, brother Jack has used Ernest for his own devices. Denying his life in the country with his Ward Cecily Cardew, Jack seeks thrills in the city with his impulsive friend Algernon Moncrieff, constantly attempting to delay his burgeoning adulthood. When love appears in his life and an ordinary leather handbag stands in his way, he knows this can't last…
With marriage on the cards, his responsibility to protect Cecily threatened and his mysterious past barrelling into him like a locomotive, Jack must once and for all emancipate unfortunate Ernest and live the earnest life he's always been destined for.
Location
Maitland Repertory Theatre - 244 High Street Maitland, NSW 2320
Dates & Times
Wednesday 24 November, 2021 at 8:00 PM
Friday 26 November, 2021 at 8:00 PM
Saturday 27 November, 2021 at 8:00 PM
Friday 03 December, 2021 at 8:00 AM
Saturday 04 December, 2021 at 8:00 PM
Sunday 05 December, 2021 at 2:00 PM
Friday 10 December, 2021 at 8:00 PM
Saturday 11 December, 2021 at 2:00 PM
Sunday 12 December, 2021 at 2:00 PM
Website
Visit the Maitland Repertory Theatre website for further information - https://www.mrt.org.au/