Presented by Maitland Repertory Theatre
Louis Nowra's COSI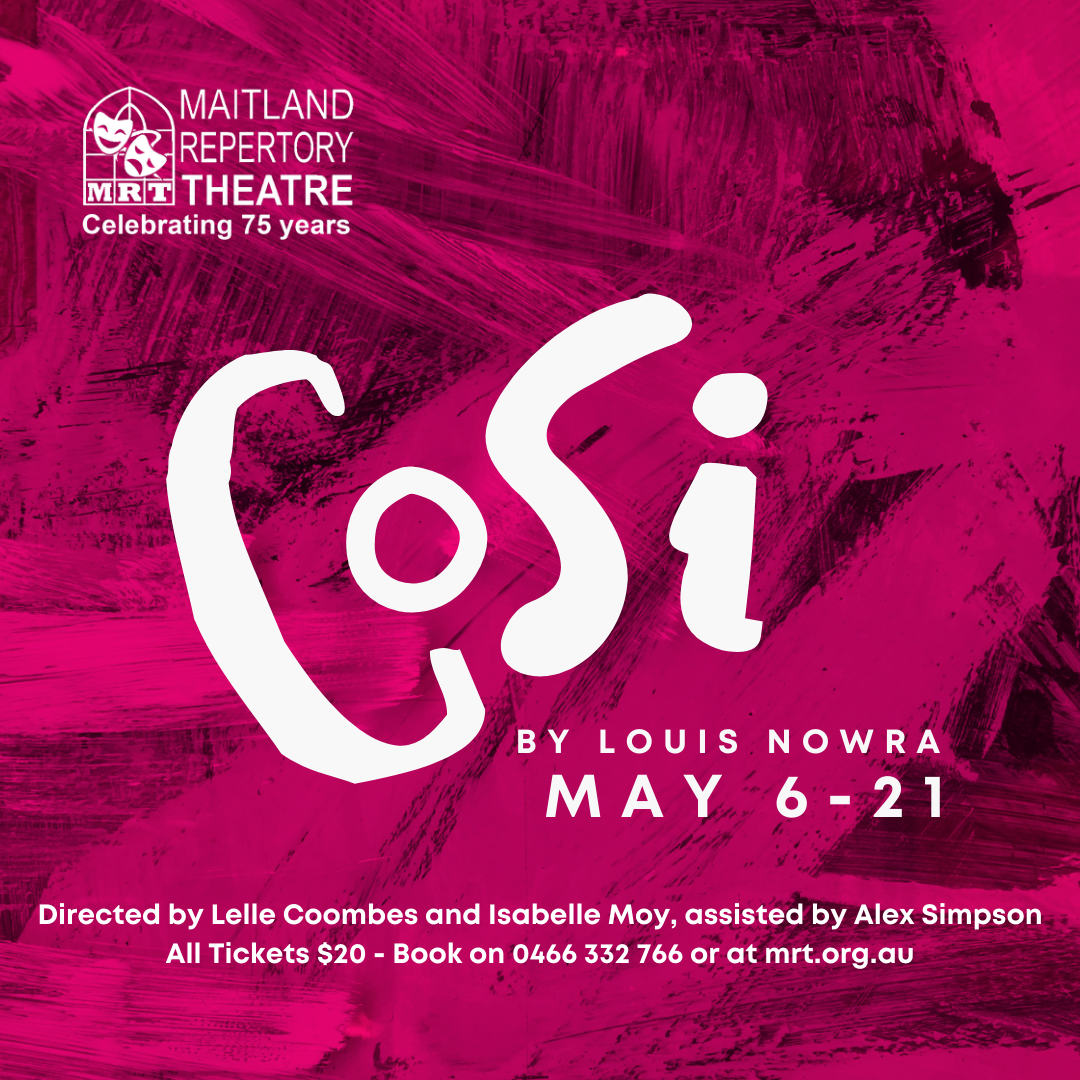 About the Show
COSI by Louis Nowra
An Aussie classic full of comedy mayhem.
Directors: Lelle Coombes and Isabelle Moy
Assisted by Alex Simpson
Dates: May 6 to 21, 2022


This heart-warming and hilarious Australian comedy returns to Maitland Repertory Theatre for the second time in 16 years. Set in a psychiatric facility, Così is a play about friendship, romance, community and difference. It's 1971 and Australia is protesting the war in Vietnam. But inside the hospital, the resident patients are listening to Mozart, learning their lines and occasionally skipping their medication. It's art, it's mayhem, it's a wonderful roller coaster all the way to opening night.
The icing on the cake is that it's all based on playwright Louis Nowra's own life. In the 1970s, he himself directed a musical with patients from Melbourne's Mont Park Psychiatric Hospital. The one-off performance brought joy to everyone involved.
Now, Reamus Youth Theatre brings this joy to our stage. With its cast of loveable characters, Così offers a touching reminder of how art can make our spirits soar.
Content Warning - Strong language, adult themes and theatrical haze.
Location
Maitland Repertory Theatre
Dates & Times
Friday 06 May, 2022 at 8:00 PM
Saturday 07 May, 2022 at 2:00 PM
Saturday 07 May, 2022 at 8:00 PM
Friday 13 May, 2022 at 8:00 PM
Saturday 14 May, 2022 at 2:00 PM
Saturday 14 May, 2022 at 8:00 PM
Sunday 15 May, 2022 at 2:00 PM
Friday 20 May, 2022 at 8:00 PM
Saturday 21 May, 2022 at 2:00 PM
Saturday 21 May, 2022 at 8:00 PM
Website
Visit the Maitland Repertory Theatre website for further information - https://maitland_rep_theatre.eventbrite.com.au