Presented by Maitland Repertory Theatre
In the Next Room (or the Vibrator Play)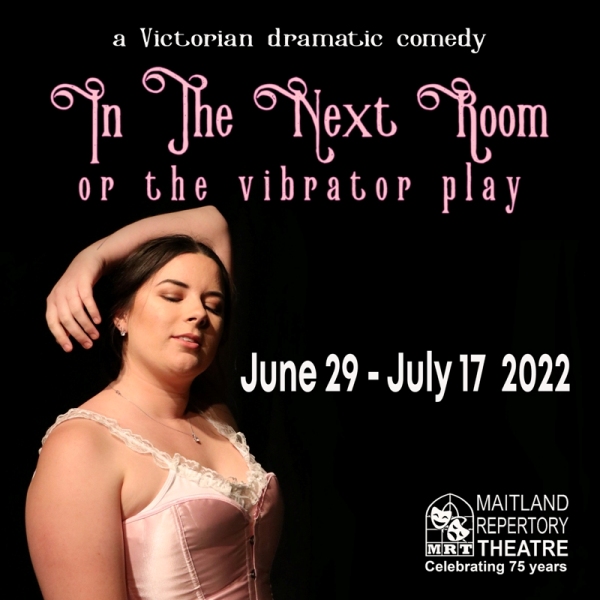 About the Show
In the Next Room (or the Vibrator Play)
by Sarah Ruhl
A Victorian Dramatic Comedy directed by Danny Shaunessy
Dates: June 29 to July 17, 2022
Late 19th Century New York State - a time of great innovation and social change. While enthusiasm grows among the well-to-do for the new electric light bulb, Doctor Givings has been working on his own strange electrical device. His aim is to treat female hysteria, but his first patient emerges from her first session glowing and keen to return.
In the Next Room, or The Vibrator Play, is a provocative, touching and entertaining story about sex and intimacy. The acclaimed play, which revolves around the reverberations, physical and emotional, of the late-19th-century use of electrical gizmos to treat female "hysteria," is often hilariously funny.
Content Warning: In the Next Room contains strong language and mature themes.
Running time: About 2 hours and 30 minutes with a 15 minute interval
Opening Night: Come along at 7:30pm on Wednesday 29 June and help us celebrate opening night and enjoy complimentary refreshments before the show.
Ticket Prices: $30 (full), $25 (concession) Group Concessions 10+: $25 Special discounts for large groups over 20 – contact info@mrt.org.au.
We accept Dine and Discover Vouchers - call 0466 332 766 (10am - 2pm daily) to book using your voucher.
Book online or call 0466 332 766 (10 - 2 daily).
The Cast
Dr. Givings - Matt Scoles
Mrs Givings - Isabelle Moy
Mr Daldry - Declan Power
Mrs Daldry - Connie Voisey-Barlin
Annie - Rhiannon McDonald
Leo - Daniel Bourke
Elizabeth - Alana Burton
Prompt and stand-in - Amanda Strong>
Location
Maitland Repertory Theatre
Dates & Times
Wednesday 29 June, 2022 at 8:00 PM
Friday 01 July, 2022 at 8:00 PM
Saturday 02 July, 2022 at 8:00 PM
Friday 08 July, 2022 at 8:00 PM
Saturday 09 July, 2022 at 8:00 PM
Sunday 10 July, 2022 at 2:00 PM
Friday 15 July, 2022 at 8:00 PM
Saturday 16 July, 2022 at 8:00 PM
Sunday 17 July, 2022 at 2:00 PM
Website
Visit the Maitland Repertory Theatre website for further information - https://maitland_rep_theatre.eventbrite.com.au