Presented by Young People's Theatre Newcastle Inc.
BUNYIPS: A big, beautiful mess of a play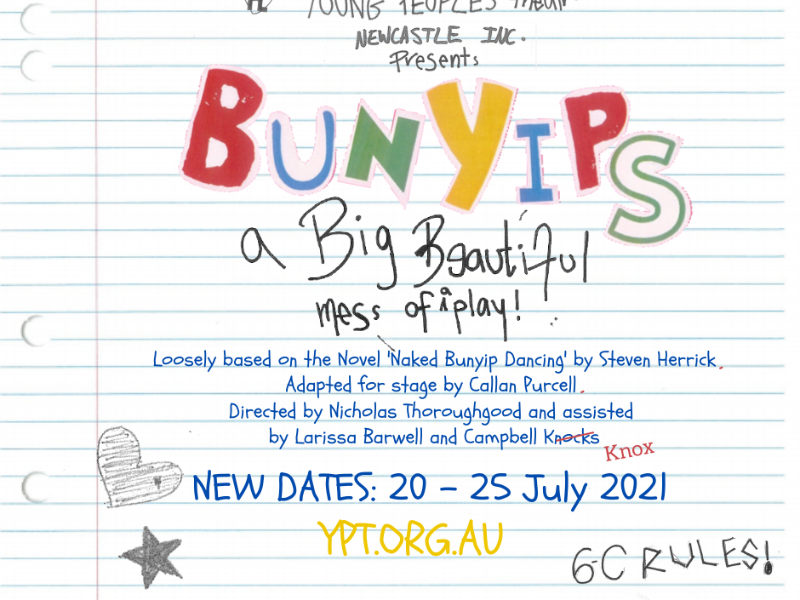 About the Show
Based on the novel 'Naked Bunyip Dancing' by Steven Herrick and adapted for Stage by Callan Purcell, YPTs 'big beautiful mess of a play' is an empowering play that celebrates young people in all their awkward glory. Meet Billy The Punk Genius, J-man The Rapper, Sophie The Poet, Ahmet The Soccer Star, Jason The Good Kisser, Pete The Boy with the Talking Bottom, Emily The Ballerina and so many more!

Class 6C is in their final year of primary school. A new teacher is on the scene and turns their lives upside down; introducing them to meditation, Shakespeare, yoga classes, poetry jams and many other things far out of their comfort zone. Amidst break ups, break downs and breakdancing, 6C make their mark on the school by performing the best concert to ever happen in the history of the world.
Creative Team
Director: Nicholas Thoroughgood
Assistant Directors: Larissa Barwell and Campbell Knox

Bunyips: a big beautiful mess of a play - is suitable for all ages.
Bring the family!
Location
26-28 Lindsay Street, HAMILTON, 2301
Dates & Times
Saturday 10 July, 2021 at 10:30 AM
Saturday 10 July, 2021 at 2:00 PM
Saturday 10 July, 2021 at 6:00 PM
Friday 16 July, 2021 at 6:00 PM
Saturday 17 July, 2021 at 2:00 PM
Saturday 17 July, 2021 at 6:00 PM
Sunday 18 July, 2021 at 2:00 PM
Sunday 18 July, 2021 at 6:00 PM
Saturday 24 July, 2021 at 2:00 PM
Saturday 24 July, 2021 at 6:00 PM
Sunday 25 July, 2021 at 2:00 PM
Sunday 25 July, 2021 at 6:00 PM
Website
Visit the Young People's Theatre Newcastle Inc. website for further information - https://ypt.org.au/